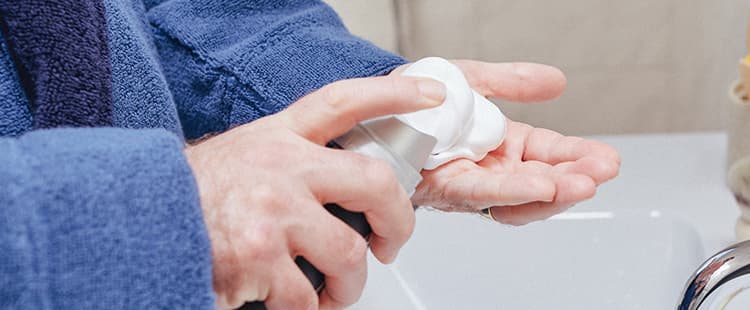 What is GAMMAGARD LIQUID?
GAMMAGARD LIQUID is the first and only FDA-approved intravenous immunoglobulin (IVIG) for adults with Multifocal Motor Neuropathy (MMN).
IVIG for MMN is the standard treatment.
GAMMAGARD LIQUID is the only IVIG in clinical trials shown to improve grip strength and reduce disability in MMN*
GAMMAGARD LIQUID is an antibody therapy that contains immunoglobulin G (IgG). The term Ig means antibodies, like the ones you have in your immune system to fight infections. However, with MMN, your body's immune system may mistakenly attack your motor nerves. Ig therapy infuses a specific type of antibody into your body to support a healthy immune system. Your doctor might also refer to GAMMAGARD LIQUID as an Ig treatment, intravenous Ig or IVIG.
*In a 60-week clinical study with 44 adults with MMN, GAMMAGARD LIQUID was shown to improve or maintain grip strength and reduce disability compared to placebo.
GAMMAGARD LIQUID is made from plasma donations
GAMMAGARD LIQUID is supported by a strong legacy of more than 60 years of experience in IgG therapies. IgG is derived from plasma, which is part of human blood. Every step of the process used to make GAMMAGARD LIQUID ensures that your therapy is reliable and meets high safety standards.
3 steps to meet high safety standards
The plasma that's used to make GAMMAGARD LIQUID goes through a rigorous process to get rid of viruses that could have potentially been included during the collection.
Why are plasma donors needed?
They can save lives. For many rare diseases, including MMN, immunoglobulin is an important treatment available—and it can't be made without plasma donations. Learn more and find a donor center near you.
Made with your needs in mind
Are you watching your sugar intake? How about extra sodium? You might be interested to know that GAMMAGARD LIQUID may meet the needs of people who have special considerations.
Not all IVIGs are the same. GAMMAGARD LIQUID has:
Latex allergy? No worries. GAMMAGARD LIQUID packaging is not made with natural rubber latex.
GAMMAGARD LIQUID is also stabilized and buffered with glycine.
Ready to talk with your doctor?
Your experience with MMN is personal, so this discussion guide is all about you. We'll ask questions to help you have a discussion with your doctor about where you are now—so you can start working toward where you want to be.