What is
GAMMAGARD LIQUID?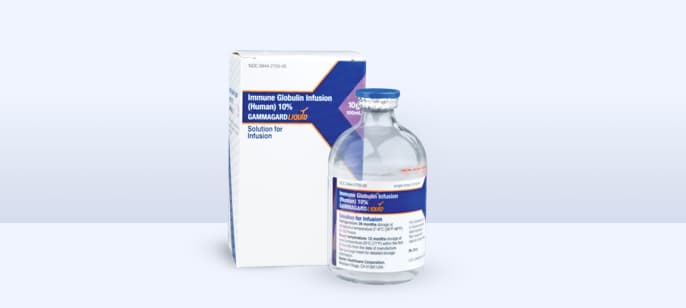 Immune globulin (IG) for patients with Primary Immunodeficiency (PI) and adults with Multifocal Motor Neuropathy (MMN)
GAMMAGARD LIQUID is indicated as replacement therapy for PI in adult and pediatric patients ≥2 years and as a maintenance therapy to improve muscle strength and reduce disability in adults with MMN.1
GAMMAGARD LIQUID is the most utilized IG in the US over the last 15 years2
(based on aggregate analysis)
As a leading IG, GAMMAGARD LIQUID is a trusted therapy with more than 15 years of clinical use.2-5
Supported by a legacy of leadership
GAMMAGARD LIQUID is built on more than 60 years of global heritage in IG therapies.6 See how our history translates into world-class manufacturing standards today—and how we're actively preparing to serve patients tomorrow.
See our commitment
Formulated with patient needs in mind1
Not all intravenous immune globulin (IVIG) formulations are interchangeable.7-9 GAMMAGARD LIQUID is formulated to help you meet the needs of many patient types, including those with specific conditions and risk factors.1,10 Watch an overview of how GAMMAGARD LIQUID is made and explore product characteristics.
See product characteristics
Established safety profile
GAMMAGARD LIQUID has an established safety and tolerability profile.1 Explore safety information to consider when initiating and monitoring treatment with GAMMAGARD LIQUID.
Review safety information
Designed for ease of use
GAMMAGARD LIQUID is offered in a broad range of vial sizes, potentially minimizing product waste.1 Explore information on vial sizes, shelf life, and storage requirements.
See vial size and storage