GAMMAGARD LIQUID for
Multifocal Motor Neuropathy (MMN) Resources
Support for your patients with MMN
To support your efforts in meeting patient needs, we've created a resource library full of helpful materials for you. You'll also find helpful information you can pass along to your MMN patients and their loved ones.
MMN resources for healthcare professionals
Watch how GAMMAGARD LIQUID is made
See the product characteristics in this introduction to the creation process.
Watch now
MMN Disease State Education Diagnosis Brochure
MMN can be challenging to diagnose.1 This resource provides a helpful overview of the diagnostic criteria that may help you differentiate MMN from other peripheral neuropathies.
Download diagnosis brochure
Product Characteristics Brochure
Not all IVIG formulations are interchangeable.2 In this brochure, you'll find GAMMAGARD LIQUID information related to formulation, dosage, infusion rate, and packaging along with patient risk conditions and risk factors to consider with IVIG administration.
Download product characteristics
Clinical Overview Brochure
This overview contains information on the study design, results, safety profile, and infusion experience for GAMMAGARD LIQUID's clinical trial in MMN.
Download clinical overview
Use the diagnosis code ICD-10-CM G61.82 when prescribing GAMMAGARD LIQUID for MMN patients.
Takeda Patient Support* Co-Pay Assistance Program
The Takeda Patient Support Co-Pay Assistance Program may help your patients save on their prescribed Takeda treatment. The program can cover up to 100% of your patient's out-of-pocket co-pay costs, if they're eligible.*† A support specialist can review your patient's coverage and determine eligibility.
Eligibility*:
Be prescribed GAMMAGARD LIQUID for MMN
Have commercial insurance. This includes Health Insurance Marketplace plans
Be enrolled in Takeda Patient Support
See below for terms and conditions.
If your patient has government insurance, Takeda Patient Support can help answer questions about their prescribed Takeda treatment coverage. This includes federal or state insurance such as Medicare, Medicare Advantage, or Medicaid.
If your patient can't afford treatment, Takeda Patient Support may be able to connect them to programs that may help.
Enroll patients today. Complete the Start Form and fax to 1-855-268-1826.
Visit TakedaPatientSupport.com/hcp/enroll
*Must meet eligibility requirements.
†IMPORTANT NOTICE: The Takeda Patient Support Co-Pay Assistance Program (the Program) is not valid for prescriptions eligible to be reimbursed, in whole or in part, by Medicaid, Medicare (including Medicare Part D), Tricare, Medigap, VA, DoD, or other federal or state programs (including any medical or state prescription drug assistance programs). No claim for reimbursement of the out-of-pocket expense amount covered by the Program shall be submitted to any third party payer, whether public or private. The Program cannot be combined with any other rebate/coupon, free trial, or similar offer. Copayment assistance under the Program is not transferable. The Program only applies in the United States, including Puerto Rico and other U.S. territories, and does not apply where prohibited by law, taxed, or restricted. This does not constitute health insurance. Void where use is prohibited by your patient's insurance provider. If your patient's insurance situation changes, they must notify the Program immediately at 1-855-268-1825. Coverage of certain administration charges will not apply for patients residing in states where it is prohibited by law. Takeda reserves the right to rescind, revoke, or amend the Program at any time without notice.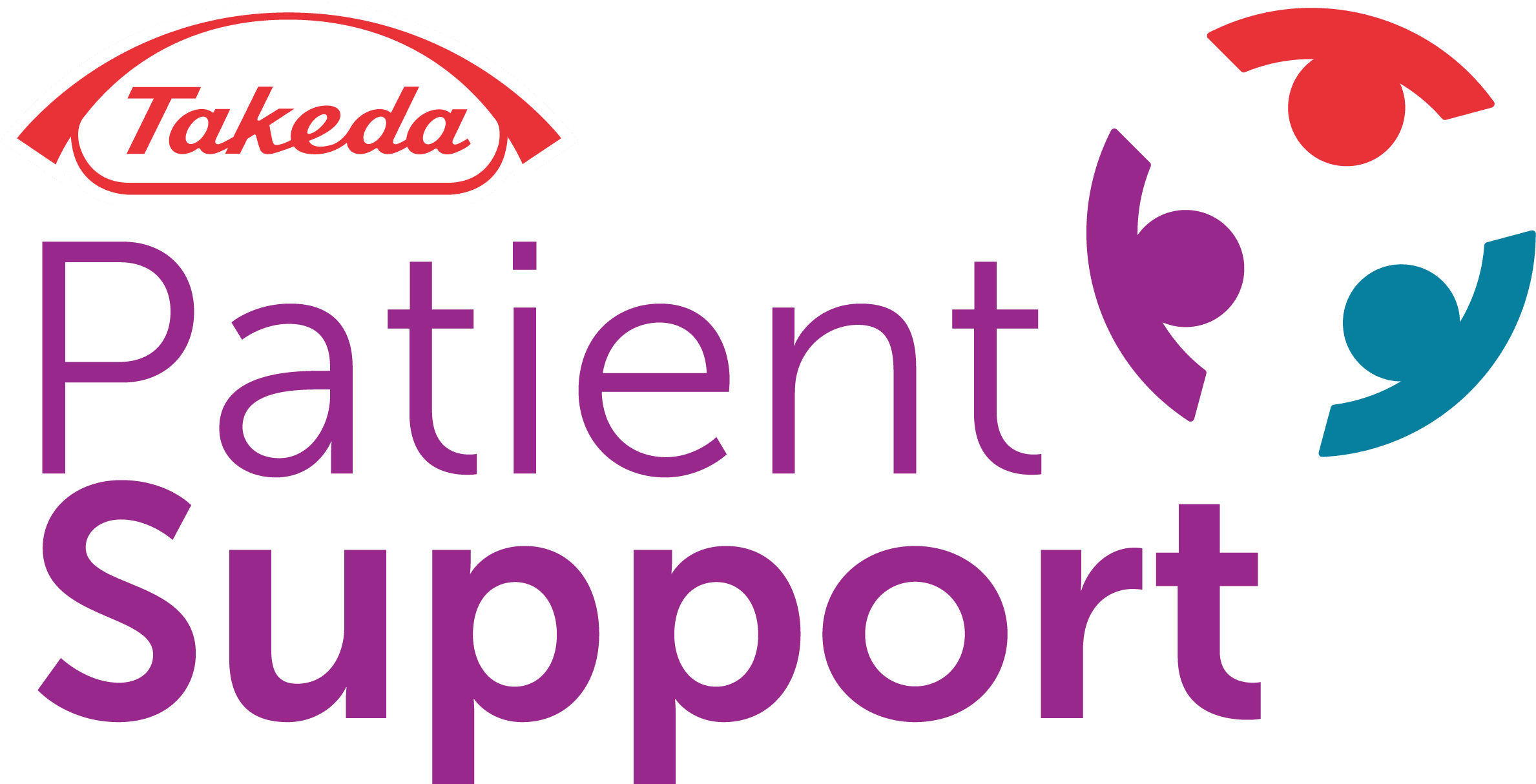 Resources for patients with MMN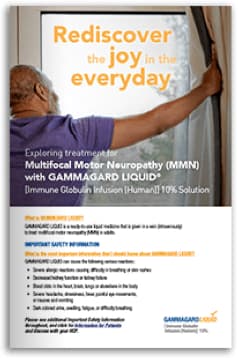 GAMMAGARD LIQUID Treatment Brochure
Use this brochure to help patients explore treatment with GAMMAGARD LIQUID and to provide an overview of the infusion process, working with a specialty pharmacy, and more.
Download treatment brochure
MMN Electrodiagnostic Testing Overview
For your patients who need electrodiagnostic testing, this resource helps them understand what to expect during the procedure and why testing is important.
Download the overview
Third-party links for MMN patients
An MMN diagnosis can bring a range of emotions, from confusion to relief. Many patients and their loved ones benefit from connecting with support from patient organizations.
Neuropathy Action Foundation (NAF)
This helpful organization posts brochures, news, and quarterly newsletters and provides information on navigating insurance.
Visit neuropathyaction.org
The Foundation for Peripheral Neuropathy
Along with helpful information about living with neuropathies, this organization provides opportunities for patients to connect with support groups.
Visit foundationforpn.org
The GBS/CIDP Foundation International
This organization provides support for patients with several related conditions—including MMN—and ways to connect with other patients.
Visit gbs-cidp.org